News — short season gardening
• gardening in northern climates • seed starting • seed starting vs buying plants • short season gardening • starting plants from seed vs buying plants • starting seeds indoors
It's almost that time of year when vegetable, flower and herb seeds are started ahead of the growing season indoors to get a head start on them growing before it's warm enough to plant the garden. You may have considered starting seeds indoors or have been doing it already or maybe you purchase your starts at your local nursery. What is the difference between starting seeds indoors and is it better than buying plants or vice versa?  1. Variety The first main difference between starting seeds indoors and buying them at a nursery is when you start them yourself you...
---
• cold season gardening • gardening in northern climates • short season gardening • short season gardens • tips for gardening in a shorter season • tips for growing in a shorter season • what is a short season garden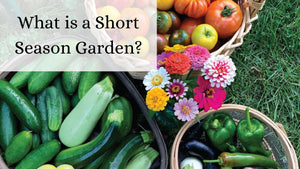 Short Season Gardening, Northern Gardening and Cold Climate Gardening. You've maybe heard these terms before but what do they really mean? What entails a shorter season garden? A growing season first of all consists mainly of the days in between your last frost date (end of Spring to Early Summer) and your first frost date (End of Summer to Early Fall). These days make up the majority of your growing season when you grow your annual "hot" season crops such as: tomatoes, cucumbers, squash, corn etc. This time of year is also when the temperatures and sunlight are at their...