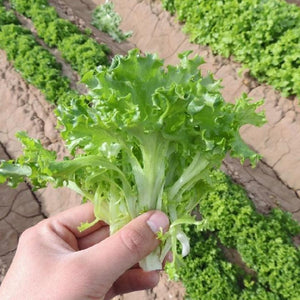 Garden Girl Seed
LETTUCE - TANGO
Regular price
$3.00
$0.00
Unit price
per
Tax included.
DAYS TO MATURITY: 53 days
We love this lettuce!  Good growth in cool and low light weather.  Tasty with nice texture.
Planting:
Direct seed in early spring, as seed will germinate between 40-80 degrees F. Sow thinly 1⁄4 inches deep and 1 inch apart. Spacing: Leaf types - 6 inches apart with 12 inches rows; Iceberg - 12 inches apart with 18 inches row spacing; Romaine - 8-10 inches apart with 12-16 inches rows and Butterhead/Batavia - 10-12 inches apart with 12 inches row spacing. Start transplants indoors 4-6 weeks before last frost date for transplants. Make succession plantings every 1-2 weeks to ensure a constant harvest.
Seeds per pkt: 1000
---