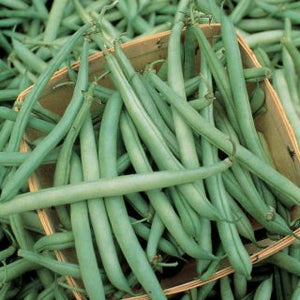 Garden Girl Seed
BEAN (BUSH) - LEWIS
Regular price
$3.00
$0.00
Unit price
per
Tax included.
Big yields on these bush plants. Market growers like it because it produces in one big flush, making for easy picking. Succession plant for a continuous harvest. Dark green 6" pods, crispy and good flavor.

Planting:
Direct seed after risk of frost when soil warms to 18-24˚C. Sow 1 inch deep and 2 inches apart in rows 18 inches (bush beans) to 24 inches apart (shell beans). Reseed until mid-summer for a constant supply all season long. If using untreated seed, plant thicker and thin to desired density.
Growing:
Both bean types require a full sun location, soil pH of 6.5-7.5, and well-drained soil. Good air circulation around plants is essential, especially for late shelling or dry type beans, as they are very susceptible to fungal diseases which prevail later in the season. Beans are light feeders; compost or well-rotted manures worked into the soil at the time of planting is sufficient.
DATE TO MATURITY: 53
SEEDS PER PKT: 60 SEEDS

---